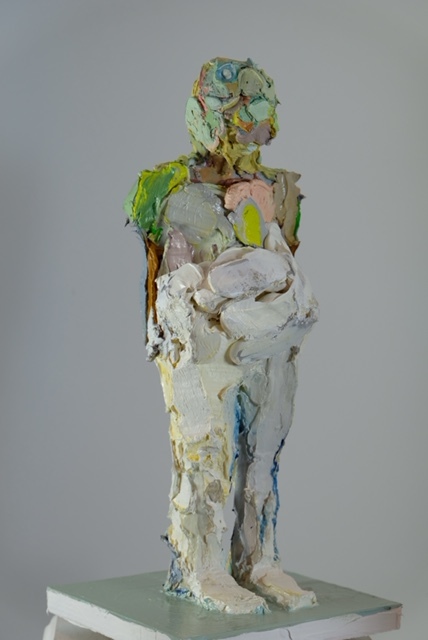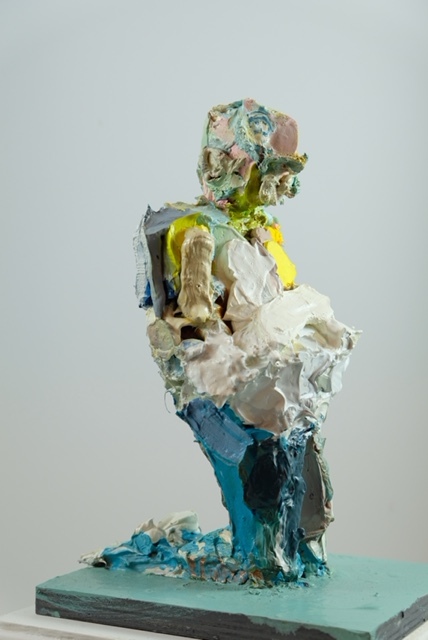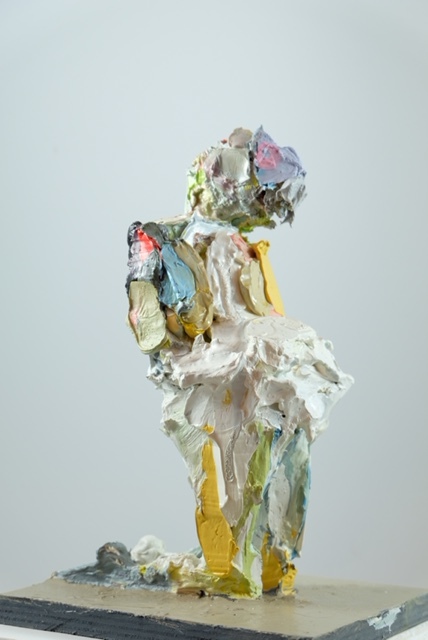 Susan Carr, Tatyana Gubash, Katy Helman, Lavaughan Jenkins, Ellen Wineberg
Mar 10 - Apr 28
Reception: Saturday, Mar 10, 4-6
Room 83 Spring is pleased to present Facsimile, a show of sculpture and assemblage by John Christian Anderson, Brian Bishop, Venetia Dale, Pier Gustafson, and Judy Haberl guest curated by John C. Anderson.
"The great deception is the belief that things have a continued and fixed essence, the mindset that ignores the impermanence and the continuous transformation of phenomena." – Marcus Boon, In Praise of Copying
The works in this show are artful facsimiles of things in the world. John Anderson assembles camera look-alikes from found wood and a shopping cart from sticks. Venetia Dale amasses a pile of rubber door stops, in clay. Judy Haberl casts handbags and their contents in transparent silicone. Brian Bishop paints enlargements of old photos he finds abroad, and Pier Gustafson creates what gives the illusion of heavy machinery from paper and ink.
Some objects like erasers, purses, or a random black and white photo may be so mundane as to go unnoticed in our daily life. In some cases the original object seems so insignificant that the artist simply replicates the essential parts, creating the appearance of something we know. In each case the viewer is manipulated into seeing something familiar for the first time.
Building an image or object from rescued objects or recycled materials is central to the time-honored technique of collage and assemblage. There is cultural DNA in all of this found material, which can lead to new combinations, causing overlooked parts of our culture to become visible through the facsimile.
The deception is magical and can elicit a childlike amazement at the world around us. But there can be deeper strategies at work in creating objects that upend our normal expectations and assumptions leading us into a state of not knowing, which helps us to be totally present.
About the Artists
John Christian Anderson remembers childhood visits to Simon Rhodia's Watt's Towers, which could be seen near his home in Los Angeles. These towers made a profound impact on him representing symbols of pure artistic vision, independence, and the down-to-earth attitude of using whatever materials are available. Building on this experience, Anderson's art has led to embracing Indian and Buddhist sand painting, Fluxus objects, Minimalism, Funk Art, bricolage and assemblage. Impermanence, imperfection, and incompleteness have become fundamental to his sculpture as a way to express personal narratives while also reflecting a world that is becoming more ephemeral and out of balance.
Anderson has exhibited in museums and galleries throughout the United States. These include the Robert Freidus Gallery in New York, the Rose Art Museum, the ICA Boston, The DeCordova Museum, and the Delaware Center for Contemporary Art. Recently his work was included in an exhibition at the Jonathan Ferrara Gallery in New Orleans, Louisiana, and room83spring in Watertown, Massachusetts. This past year he was awarded an individual Artist Resource Trust grant and a prestigious School of the Museum of Art Traveling Scholarship. His work is included in both public and private collections.
Brian Bishop is an artist and educator who lives and works in Boston where he teaches painting and serves as the chair of the Department of Art and Music at Framingham State University. He attended The School of Visual Arts in New York, Ny; Memphis College of Art in Memphis, TN (BFA 1993); and Cranbrook Academy of Art in Bloomfield Hills, MI (MFA 1995). Prior to joining the faculty at Framingham State University in 2008, he taught at The University of Alabama, The University of North Carolina at Chapel Hill, The University of Memphis, and Memphis College of Art. In addition to his teaching experience he has also served as Director and Curator of the Art Workers Union/Plan B Gallery in Memphis and as Director of Exhibitions at Memphis College of Art.
Bishop's work has been widely exhibited including solo exhibitions at the Cheekwood Museum of Art in Nashville, TN; Creative Arts Workshop in New Haven, CT; The University of Delaware in Newark, DE; Artspace in Raleigh, NC; Georgetown University in Washington, DC; and at Youngblood Gallery in Atlanta, GA. He has also participated in select group exhibitions at the National Portrait Gallery, Smithsonian Institution in Washington, DC; A+D Gallery at Columbia College in Chicago, IL; Delaware Center for Contemporary Art in Wilmington, DE; BECA in New Orleans, LA; Southeastern Center for Contemporary Art in Winston-Salem, NC; Catalyst Arts in Belfast, UK; Galway Arts Centre in Galway, Ireland; Gallery 111 in Johannesburg, South Africa and The Painting Center in New York, NY.
Venetia Dale is a metalsmith/sculptor whose work explores shifts in utility, mobility and exchange between people, place and things. Dale received her MFA from State University of New York at New Paltz in 2009 and BFA at University of Wisconsin-Madison in 2004. She exhibits work, lectures, curates and performs workshops nationally and internationally. Dale has participated in exhibitions at 92nd Street Y Tribeca Gallery in New York, NY, Urban Institute of Contemporary Art in Grand Rapids, MI, Racine Art Museum in Racine, WI and Eastern Bloc Centre for New Media and Interdisciplinary Art in Montreal, Puebec. She has participated in artist residencies at Oregon College of Art and Craft and at Kohler Company in Sheboygan, WI. She has most recently been awarded the 2015 Emerging Artist Platform Award from Sienna Gallery in Lenox, MA. Venetia Dale resides in Boston, MA where she maintains a studio practice and teaches at Massachusetts College of Art and Design.
Pier Gustafson began creating his "three dimensional drawings" and (trompe l'oeil) installations in Madison Wisconsin while in Graduate School. He created life-sized rooms filled with objects, all made of paper and ink wash. It almost seemed as if you walked into a drawing. Later in that career he switched materials, drawing on black paper with white gouache and discovered that the objects seemed to have a different presence. Rather like you were " imagining" the objects as opposed to "remembering" them. Shortly after that switch in medium, he re-acquainted himself with "flat" drawing and began his present career as an illustrator and graphic designer.
Judy Haberl is Professor of Sculpture at Massachusetts College of Art and Design where she teaches in Graduate and Undergraduate Programs. She is the 3-D MFA Graduate Area Coordinator and has created many interdisciplinary courses including Image & Object, (with Laura McPhee); Food and Art; Installations, Mixed-Media, and Sculpture Seminar: addressing - Living as Form. With a deep interest in the evocative potential of objects, Haberl has always embraced a cross-media approach to her art, often merging the disciplines of sculpture, photography and installation. Photoluminescence, mystery, and cultural phenomenology are persistent subjects in her work.
A Founder of the Claflin School Studios, an Artist's Residence in Newtonville, MA, Judy is the recipient of numerous grants including LEF New England, General Fund Visual Artist Award, Artist's Resouce Trust, Massachusetts Cultural Council and The George A. and Eliza Gardner Howard Foundation Fellowship at Brown University, and Massachusetts College of Art Faculty Fellowships.