Phyllis Berman | Anne Lilly
Stillness
Sept 9 – Oct 28, Reception: Saturday, Sept 9, 4–6
Equilibrium, transformation, surprise, and stillness. ROOM 83 Spring is pleased to present the work of Phyllis Berman and Anne Lilly. Together, and in very different ways, Berman and Lilly deal with machined metal objects, gravity, composition and space.
Phyllis Berman's flawless paintings of plumb bobs and other singular objects represent time and gravity. She has a lively on-going conversation with art history. Her work puts you in a timeless place of observing light, shadow and color, undisturbed by any hint of her hand or her meticulous process. Her signature works are frontal compositions that balance abstract design with crisply modeled forms in a circumscribed space. She was awarded grants from The Pollock-Krasner Foundation, and the National Endowment for the Arts, among others, and is in collections around the country.
Kinetic sculptor Anne Lilly uses carefully engineered motion to shift and manipulate our perceptions of time, space and energy. Her steel sculptures move you. Sit across from someone with the tall mirrors of TO SEE moving slowly back and forth between you, and experience an out-of- body transformation as you morph into the other person and back into yourself. Anne's work crosses the line between art and science. She was a visiting artist at MIT and created artworks for a yearlong exhibition of kinetic art at the MIT Museum. She has received many grants and awards, including the Barnett and Annalee Newman Foundation Grant Award for Lifetime Achievement. She is in numerous museum collections, and shows her work nationwide.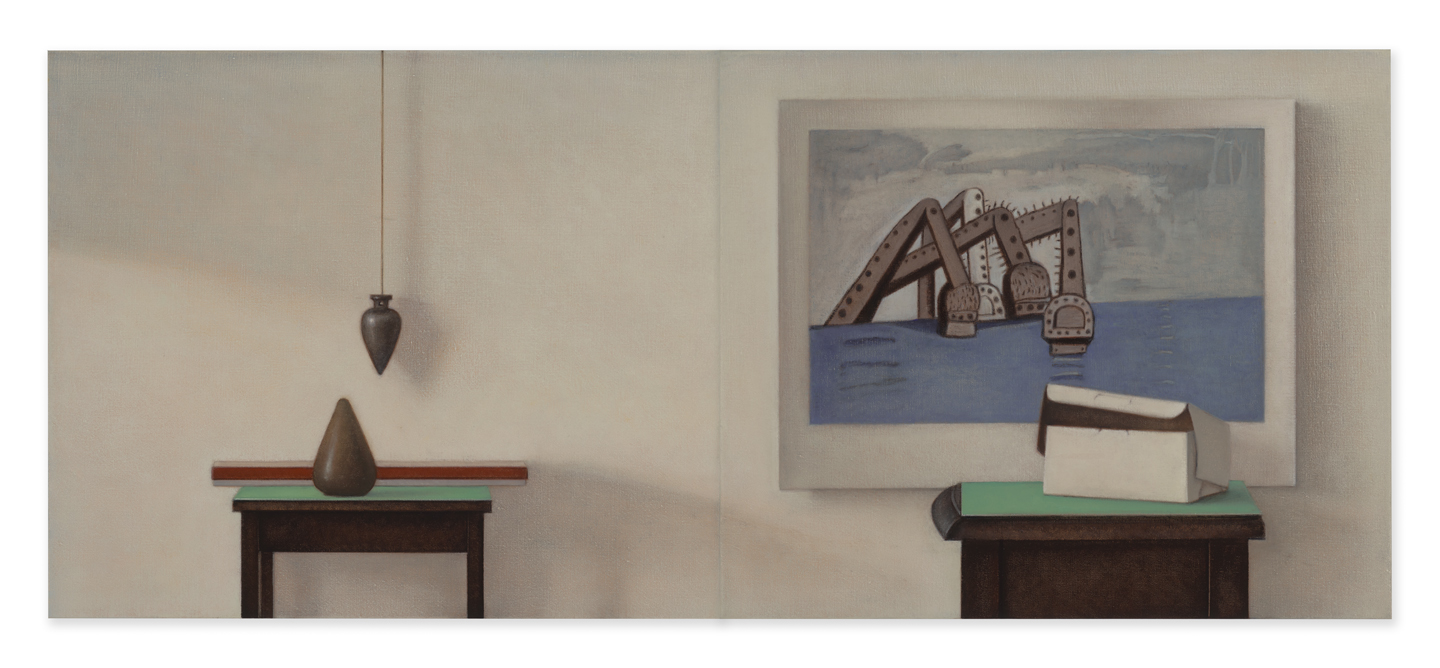 Phyllis Berman
"My current work represents a departure from the large-scale still life paintings that have defined my work for several decades. After 38 years, I lost the lease to the studio in which these large works were painted and my new much smaller studio has placed its own demands on my palette and my engagement. The recent work is sparse – often just a single object and cast shadows. The color is muted, but in spirit I think these paintings of plumb bobs represent the nature of the room in which they were painted."
Anne Lilly
"To See is the latest in an ongoing series of mirror-works that probe self-perception and the construction of being and otherness. It is less a visual object to be looked at than a lens to be looked through, a tool for transforming one's in-the-moment experience of self. Mirrors may be an obvious choice of material for this pursuit, but the mirror-in-motion opens a new arena of meanings beyond my previous, abstract kinetic artworks. The purpose of this work is existential: to lower our protective boundary, dissolve our habitual sense of separateness, and awaken a new experience of self and other."